What are you facing as an
Agile Leader

?
Agile Leadership Edge exists to help create the next generation of agile leaders so that those leaders can transform themselves and their organizations from a legacy of fixed mindset into the fluid state of agile thinking and agile practices.
Are you faced with constant change in the requests that come from your customer, your product owner or management team?
Or perhaps you are dealing with a team that seems to have the same problem every sprint. In each retrospective, the same issues come up followed by the proposed solution and the lack of energy or action by various team member results in zero progress.
Maybe you have a micro-manager in the organization that will not allow the team any space to take on changes or even do some experimentation with processes or tools for fear that the team will fail. Or perhaps a manager or senior team member tell you, "We tried that before, and it doesn't work."
Being a scrum master or product owner or transformative Agile Leader requires tremendous tenacity and skill to guide a group or organization toward more efficient processes.
The content in the Agile Leadership Edge newsletter and on the Agile Leadership Edge blog will give you additional insights to overcome some of the toughest challenges in your daily interaction and your long term Agile transformation journey.
What do Agile Processes and Agile Leadership bring to your team or organization that creates more value for your company?
Why do so many companies invest so much in Agile Transformations and coaching?
Agile practices have existed for decades under different names, and the body of evidence supporting the effectiveness of agile practices continues to grow.
To be an effective Agile Leader, you will need to dig deep into the principles of Agile, continue to learn skills and develop discipline.
One of the more famous re-tweetable quotes is,
"Don't do Agile, Be Agile."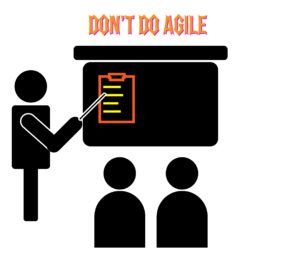 Doing agile means regurgitating learning from a book or classroom training and this results in linear change or perhaps just a simple change without accelerating the production of software or increasing team morale.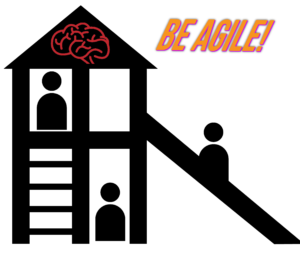 Being agile on the other hand makes the environment both more productive and more enjoyable.  It's the step beyond just adopting scrum or SAFe.  The Agile Manifesto doesn't just speak about production increases, but of social interaction and culture change.
Bottomline: The Agile Leader proactively increases knowledge, skill, mindset, and character to positively impact the culture and productivity of the team or organization where he works
What is an effective 
Agile Leader

?

An Agile Leader possesses the Knowledge, Mindset, Skill, and Character to lead, guide, coach and encourage others in the use of Agile Mindset and Agile Practices.

Knowledge of Agile practices like Scrum, XP, and Kanban are fundamental building blocks for the Agile Leader.

Mindset is the lens through which a person sees the world.  A more objective lens will enable a leader to see problems more clearly. The lens that sees the glass half-full versus half-empty will have is likely to have a more creative approach to problem-solving.

Skill in influencing people and also in creative activities that introduce, grow and institutionalize agile principle as part of the culture in a team, department or company.

Character is essential to the Agile Leader because he or she will need to make commitments and keep them through the journey from chaos to agile or from waterfall to agile.   Building trust with customers and with team members is critical and ensuring transparency and clear communication are crucial.  Even in times that the truth is not pretty, honesty and integrity are necessities in the agile quest.

Having the Agile Leadership Edge means that you are a person trained with the knowledge of good practices and that you are skilled in facilitating and influencing people and that you are a person with character such that you build trust and transparency.

You won't learn everything you need to lead agile at Certified ScrumMaster training or Product Owner Training.  You'll learn the big ideas.

The question is do want to beat yourself to death change process? Or do you want to transform the way you and your organization behave and make lasting change?

Join the e-mail list to continue developing your Agile Leadership Edge and be a transformer, not just agile practitioner.